Manufacturing
Following the traditional model, we manufacture the finest tableware in our manufactory today as we did in the past. In the process, true masterpieces are created piece by piece under the masterfully trained eyes and with great attention to detail. The individual work steps have not changed over time and are still the same today as they were in the days of Carl August Wellner.
1. Rolling out and cropping
The first steps of cutlery manufacturing at Wellner are still done on the original machines used here since the beginning of the last century. First, fine silver sheets are cut precisely to the required dimensions and then beaten by hand into their basic shapes. Then our staff rerolls the basic shapes until they get thinner and thinner, down to a hundredth of a millimeter before cutting them to their final shape with skill that only comes with years of experience.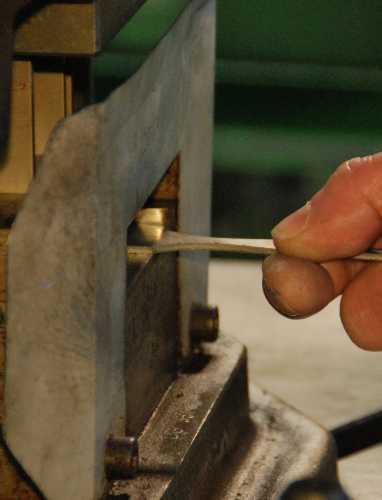 2. Classical embossing from expert hand
In the second stage, the cutlery gets its artistic embossing. The embossing tools are really the heart and soul of any tableware factory. Wellner has its tools made directly by its own master craftsmen. Following traditional models, handmade fine embossing tools are created with artistic designs that connoisseurs appreciate for their superior German craftsmanship. These stamping tools give table cutlery from Wellner its distinctive character.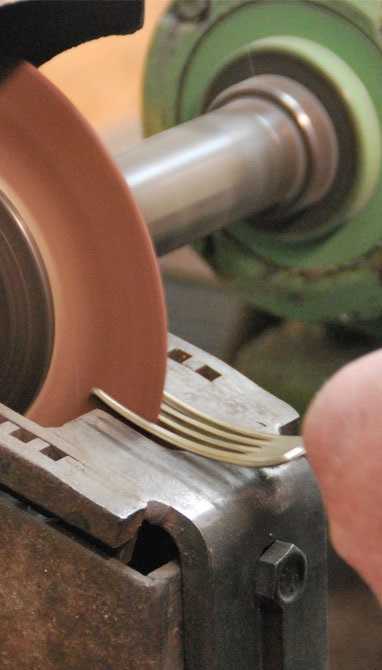 3. The final hand polishing
The crowning touch as each piece is finished in our grinding and polishing blocks. Just like a century ago, the grinding and polishing wheels are made in-house by hand. With a gently and steady hand, each Wellner piece gets its individual finishing touch. Our long-time employees then use their eagle eyes to check each piece again and again as it is worked on the polishing block until it shines with its full splendor.
Indicative of the finest jeweler quality, we even polish the spaces between the tines of each fork by hand. When polishing, we use different polishing materials and pastes that are applied carefully one by one to finish the surface. In the last step, we perform the same strict quality controls that Carl August Wellner used to ensure that only perfectly crafted silver cutlery leave our factory.